Demonstrators have gathered at Hong Kong's airport, marking the start of three days of unauthorised rallies in the Chinese territory.
Activists dressed in black sat in the arrivals hall waving banners to raise awareness among international visitors.
Protests have gripped Hong Kong for weeks, beginning with anger at an extradition bill and morphing into demands for greater freedoms.
The former British colony is part of China but enjoys more autonomy.
It has a free press and judicial independence under the "one country, two systems" approach - freedoms activists fear are being increasingly eroded.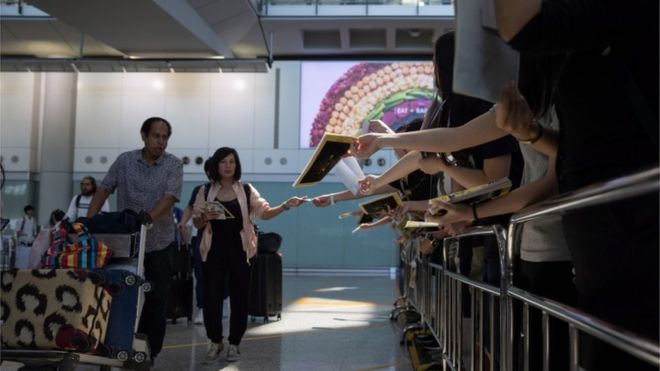 Authorities are so far tolerating the peaceful rally, which have not overly disrupted passengers. There are as yet no police at the scene.
"It will be a peaceful protest as long as the police do not show up," one demonstrator told Reuters news agency.
How are the authorities reacting?
Ms Lam met with business leaders on Friday about the economic impact of the protests.
"We've experienced SARS and financial crises," Ms Lam told reporters after the meeting, referring to the respiratory disease epidemic in 2003. "This time is more serious."
Property developers in the territory had earlier warned that demonstrations were damaging Hong Kong's economy.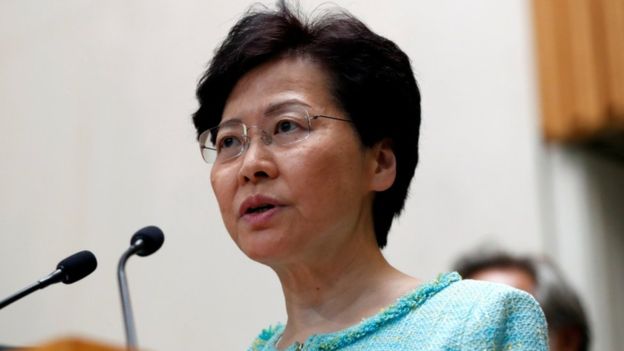 Protests have become increasingly confrontational.
On Monday, Ms Lam gave her first media address in two weeks, warning that Hong Kong was "on the verge of a very dangerous situation".
She also accused activists of using the extradition bill as a cover for their real goal, which was to "destroy Hong Kong".
Start of autumn, warning some ulterior motives and ignorant demonstrators, For the prosperity and stability of Hong Kong and for our children and grandchildren, For the upcoming jewelry show, In order to make jewelry box, gift box, jewelry bag factory can survive, We sincerely invite you to visit our pavilion.